My book: The Missile Man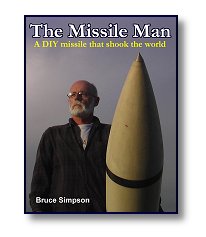 For as long as I can remember I've always had a fascination with science and technology. Even before I started school I'd almost electrocuted myself in an attempt to build my own radio.

As I grew up, this curiosity and desire to "build stuff" grew ever-stronger and my life to date has been filled with exciting projects -- some of which were striking successes, some of which were spectacularly catastrophic and very dangerous failures. I've almost lost count of the number of times I've cheated death by a hair's breadth and a look at the pictures on this page will give you a clue as to why.

In this book I share the fun, excitement, disappointment and tragedy that this life of experimentation has delivered, ultimately climaxing in the incredible sequence of events that surrounded my DIY cruise missile project.

If you're the kind of person who gets a kick out of playing with gadgets, pulling stuff apart to see how it works, or playing with science and technology in an attempt to build something exciting then this is a book you will love.

There's a lot of "do not try this at home" content and a close look at just how I built my cruise missile (sorry, no plans). You'll also find out what's become of the only privately owned cruise missile in the Western World.